Bougie Miles may receive commissions from certain affiliates. BougieMiles.com has partnered with CardRatings for our coverage of credit card products. BougieMiles.com and CardRatings may receive a commission from card issuers.
MGM Rewards Room Charges at Cosmo
As we all know The Cosmopolitan of Las Vegas has become an MGM Resort Property but has remained a Marriott Autograph Collection Hotel. This is unique in that most MGM properties are partnered up with World of Hyatt. Read my "Las Vegas Loyalty Guide: Marriott Bonvoy and Cosmopolitan's Identity Rewards" where I cover everything you need to know about the intersection of the Marriott Bonvoy Program and Identity Rewards, Cosmos casino loyalty program and 2022 MGM REWARDS GUIDE: BENEFITS, EARNING, REDEEMING TIER + REWARDS CREDITS) for Hyatt and MGM.
MGM Rewards or Identity Rewards?
At Bougie Miles, one particular area I focus on is how to maximize the amount of rewards you receive for all of your eligible spend at casinos like Cosmo, Caesars and MGM. Since MGM acquired Cosmo, not much has changed at all but there has been one change that was extremely interesting to me. If you are a Cosmopolitan hotel guest, you can apply eligible food and beverage charges at ARIA and Bellagio to your Cosmopolitan room. Likewise, ARIA and Bellagio hotel guests can apply eligible Cosmopolitan food and beverage charges to their rooms. All applicable room charges are eligible to earn loyalty currency (Identity Points at The Cosmopolitan and MGM Rewards Points at ARIA and Bellagio). For me this is huge, I stay at one of these three casinos every time I visit Las Vegas (as a matter of fact I'm flying out tonight 😉 and I'm actually booked at Cosmo and Aria because I had comps at both.
I have some credits and some redeemable points in both programs and I have dinner reservations for MGM restaurants and a few at Cosmo, so I decided to deep dive into what my strategy would be to maximize the value of the rewards I earn on all of my hotel spend this week.
First there are a few things that we have to take into account.
World of Hyatt has overlapping promotions allowing us to earn triple points on all the MGM spend (so for Globalists 16.5 points per dollar and Explorists earn 15x).
Marriott Platinum members earn 15 points per dollar at Cosmo.
Amex Offers are available for Aria and Bellagio (Spend $700 get $140 back) and Marriott (Spend $250 get $50 back.)
I have rewards points from past trips worth $75 in resort credit at Cosmo (these were earned from resort spend so they cannot be used for slots).
The Cosmo Identity points can be transferred to Bonvoy at a rate of 5:4.
These are the following rewards earnings I'll receive in each casino program for spend at their respective hotels:
Charging things to my room at Cosmo
Identity Rewards Points Earnings- 5 Points Per Dollar on Resort Spend. (5 Tier Credits as well)
Marriott Bonvoy Points Earnings- 15 Points Per Dollar on resort spend charged to the room.
Option 2- Charging things to MGM
World of Hyatt – 16.5 Points Per Dollar on Resort Spend charged to Aria or Bellagio Only (cannot use resort credit in this case since Identity Rewards cannot be used for MGM Room charges.)
MGM Rewards- 1 points per dollar on resort spend and 4 Tier Credits per dollar.
I would transfer 7,500 Points in this case from Identity to Bonvoy at a rate of 5:4- so 6,000 Bonvoy Points.
Let's Look at each scenario in turn. For the purposes of this evaluation we'll only look at the $75, I'm assigning Marriott points a value of 1.2 cents each and World of Hyatt points a value of 1.8 cents each. One thing I didn't factor into the values below is the difference of the value in tier credits for each program- meaning $75 in spend at Cosmo gets you 10.5% of the way to Cosmopolitan's Identity Rewards Sterling status which includes a free night each year, while that same spend gets you less than 1% of the way to MGM Rewards Gold status which is really only good for waived resort fees. So basically Cosmo status is way easier to achieve and in my opinion much more valuable.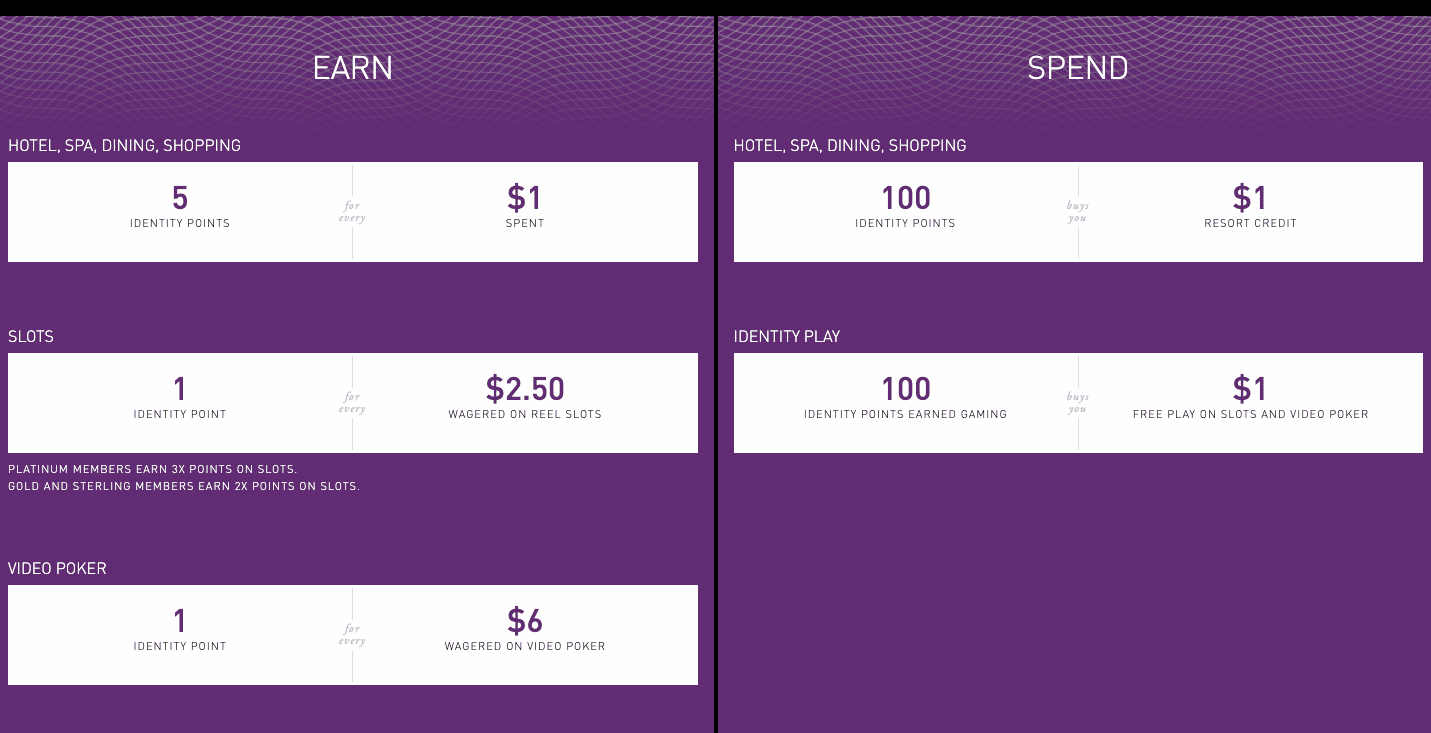 Cosmopolitan Room Charge
I can charge things to my room at Cosmo, keep my 7500 Identity Points with Cosmo and apply them to the final bill for a $75 credit. In this scenario we'll come out with the following points and rewards:
375 Identity Points (You must hand your Identity card over at the point of sale, otherwise you won't earn these points since you're earning Marriott points for your hotel bill.) (worth $3.75)
1125 Marriott Bonvoy Points (15x per dollar) (Worth $13.50)
375 Tier Points towards Identity Status
$75 savings
TOTAL VALUE = $92.25
Aria Room Charge
In this scenario I would transfer my Identity Points to Marriott Bonvoy. In this scenario we'll come out with the following
6,000 Marriott Bonvoy Points (Worth $72)
1237.5 World of Hyatt Points (Worth $23)
375 Identity Rewards Points (worth $3.75)
300 MGM Tier Credits and possibly 375 Identity Tier Points (since you're giving your card to the restaurant at Cosmo)
TOTAL VALUE = $98.75
MGM or Cosmo: Final Thoughts
The values are pretty close and you should really choose based on which programs points you prefer to earn. Another thing to consider is that you'll earn credit card rewards if you don't use the credit towards the charges and currently there are Amex offers for MGM Rewards – though for Aria and Bellagio you have to spend $700 to take advantage. Other credit cards to consider using at MGM checkout are the World of Hyatt cards or any card that earns bonus points on hotels.