Bougie Miles may receive commissions from certain affiliates. BougieMiles.com has partnered with CardRatings for our coverage of credit card products. BougieMiles.com and CardRatings may receive a commission from card issuers.
The Ritz-Carlton, Grand Cayman
This past April I had the opportunity to visit the Ritz Carlton, Grand Cayman. A detailed review follows, but my quick take is that this is a fine??? hotel located on an absolutely beautiful beach, but be prepared to spend borderline absurd amounts of money on good, but not great, food and drink (save for Blue by Eric Ripert – see below). If you want to book a standard room here with cash, the rate is around $1000 a night and the points rate is around 100k per night. One unfortunate thing about the lounge is that it's a pretty far walk from the beach area, so I still ended up spending a few hundred dollars a day on pool food and drinks.
Checking into the Resort
A quick ten minute car ride from the airport, the Ritz Carlton, Grand Cayman sits on one of my favorite beaches, Seven Mile beach. After a quick check in and welcome cocktail, the concierge walked us to our oceanfront suite. Along the way we were shown the Club lounge that offered breakfast and coffees every morning, light snacks during the day, as well as cocktails and lite bites during the evening. We definitely took advantage of the Club access and enjoyed both breakfast and plenty of drinks before dinners during the stay. If you are trying to save as much money as possible, you could absolutely eat all of your meals in the lounge and not feel deprived. I thought the spread was awesome and the service was top notch. You'll see a lot of lounge photos below to give you an idea of what they offer.

THE ROOM
Having stayed at this particular resort once a few years ago, I really loved the classic elegance of the Ritz rooms. To my surprise (maybe not fully surprised since I did see the rooms on the website), the rooms had been recently updated, bringing in a modern black and white coloring while still maintaining the classic Ritz style. The complimentary nespresso is a nice touch, especially when enjoying a view of the ocean in the morning.

I can't stress enough how much I love the look of these rooms, they just feel so elegant and timeless.


Food and Drink
I spent most of my time during the day at the beach and can say that the service was nearly perfect. Like many beach resorts, the chairs come equipped with a flag for service that was always promptly answered. There was no issue getting an ocean front chair each morning, and the pool also seemed to have ample seating. The hotel's pool/beach restaurant, Saint June, offers decent lunch bites and also seemed to be the busy happy hour spot the many guests enjoyed prior to dinner.
As mentioned above, while here, we had the opportunity to visit Blue by Eric Ripert. According to the hotel's website, the restaurant is the Caribbean's only AAA Five-Diamond restaurant. We opted to enjoy the "Eric Ripert Tasting" menu and I'm so glad we did. As the chef behind NY's famous Le Bernardin, I had very high expectations and Blue exceeded them. Each plate was fantastic and the service was impeccable. I included the menu and a photo of each dish below. A few standouts from the meal were the scallop, which was so indulgent and the incredible bread. It's a pricey meal (about $1100) but worth it if you can swing it. I do want to note that Fois Gras is a really morally problematic dish, so I asked for a substitution and they were very happy to customize. It's still pictured below as my P2 ate it.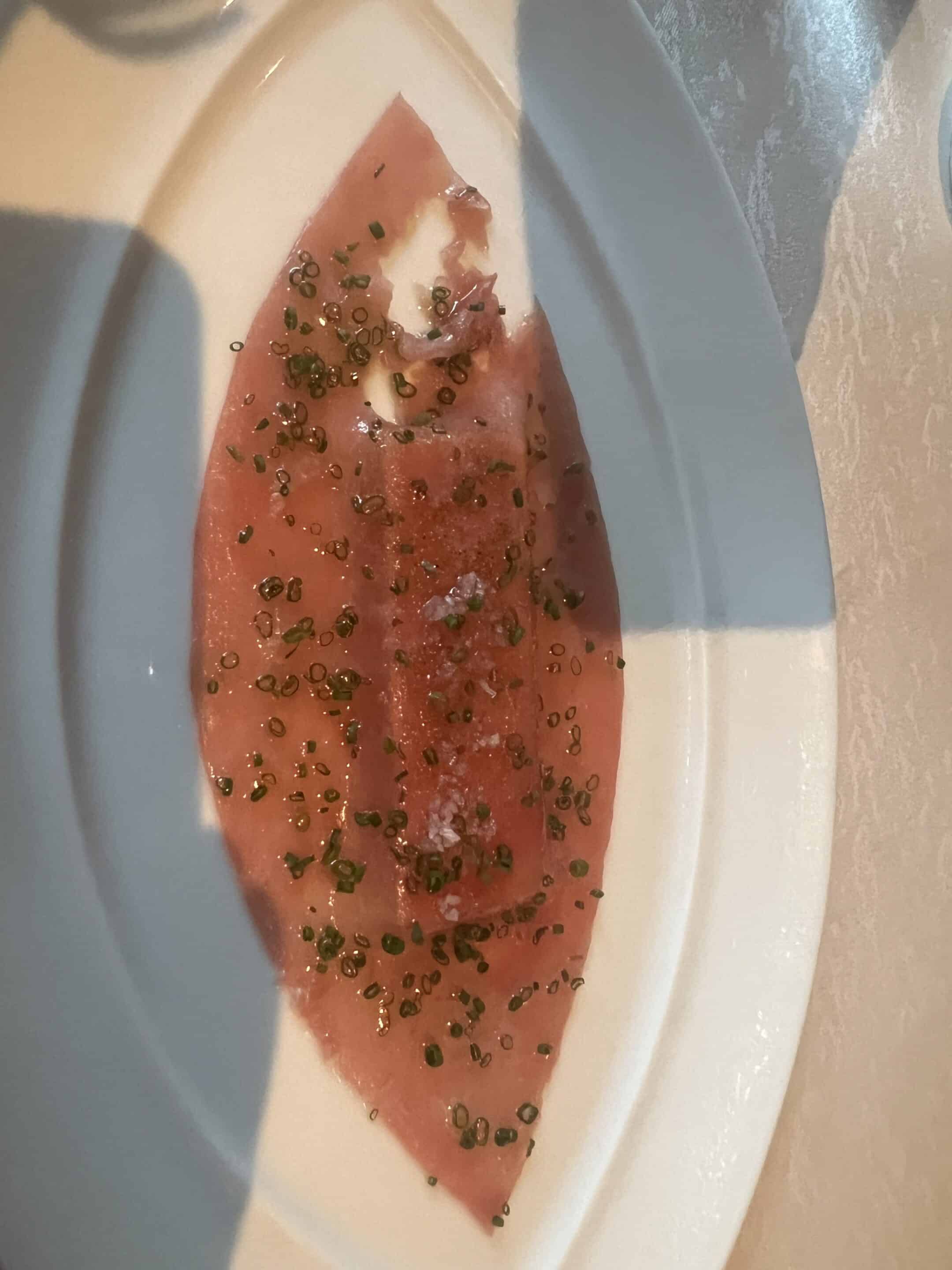 The Verdict
Grand Cayman isn't really a destination that most people go out of their way to get to, and I had no intentions of returning after my last trip. That said, a meetup had me back on the island and the Ritz is a great way to spend a few days lounging on Seven Mile beach. It's hard to justify the prices (compared to other beach spots), so I'll say once again that I doubt I'll be back soon – unless of course I make it one of these days to the Cayman Cookout food festival hosted by Eric Ripert. TBD.