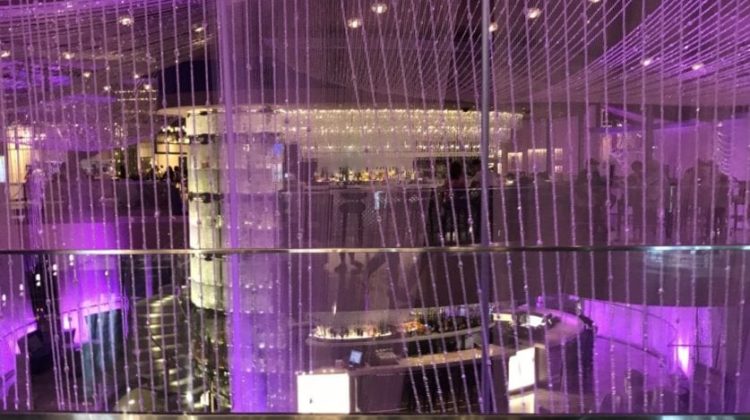 Bougie Miles may receive commissions from certain affiliates. BougieMiles.com has partnered with CardRatings for our coverage of credit card products. BougieMiles.com and CardRatings may receive a commission from card issuers.
Review: The Cosmopolitan of Las Vegas Casino and Resort
 Vegas! I know, I know. Not the most well liked destination in the travel community but one spot I enjoy almost as much as anywhere else. I'm typically good for at least one trip to Vegas per year and this year was no different. One of the reasons I keep coming back is Cosmo. Read on for a quick review of
The Cosmopolitan
from my recent trip. At some point I'll also have a review up on the wraparound terrace suite I enjoyed while there so this review will leave out the room portion.
Property Overview
As one of the newer properties on the strip, the Cosmo still has that shiny new feel to it. Everything seems to sparkle, from Cosmo's Chandelier Bar to the floors in the Casino that appear to be ingrained with glitter.
Pulling into the property, one can't help but admire the hotel lobby's massive digital columns that break up the main check in area.
There are also two different exclusive Check-in areas: The Autograph Lounge for
Marriott Elites
and VIP Check-In for casino elite members.
The hotel is split into two towers, the Boulevard and the Chelsea. One consistent gripe I've had with Cosmo over the years is the excessively long wait time for the elevators that service the rooms.  This trip was no different, one night while heading back to my room in the Boulevard Tower I waited almost twenty minutes! I don't understand why this continues to be an issue for them regardless of the tower. I don't believe there's a private elevator option for VIPs because while waiting, there appeared to be a very high roller with his family (also waiting) accompanied by two Cosmo hosts. It sounded like the hosts were getting an earful in Mandarin. I can only imagine they were headed up to the Boulevard Penthouses and were forced to wait along with the rest of us (read more about those incredibly luxurious penthouses here.)
Elevator issues aside, it's hard to knock this hotel.
Restaurants
In my opinion, the Cosmo has one of the strongest restaurant collections on the strip. From big name chefs to NYC name brands, there would appear to be something for everyone. My group managed to eat at Blue Ribbon, STK, Beauty and Essex and Red Plate, Cosmo's newest restaurant and probably the best meal I had while in Vegas. STK also delivered a memorable meal, but not for the food or loud (perhaps too loud) music while we ate. Vegas enjoyed an earthquake while we were there, making the restaurant feel like a cruise ship. That was pretty scary.
This was also my first trip back since
Cosmo
opened Urban 16, their take on the urban food hall and I had to sample a few things. I tried Hattie B's fried chicken and Tekka Bar. Both were surprisingly good and I'm actually looking forward to eating more from Tekka next time I'm back. I ended up skipping the hidden Ghost Donkey bar, but if you look close enough you'll find the door.
Casino Review: The Cosmopolitan of Las Vegas
Most casino layouts in Vegas are the same – massive room with tables and slots taking up the inside with food and other shops lining the outside. That seems to work for most of Vegas. Cosmo, because of its design (originally supposed to be Condos/hotel and then pivoted to casino resort) was forced to fit the casino into a tighter space. I actually like this change of pace and it definitely offers good people watching down the main corridor (especially when the pool parties get out).
In terms of table limits, Cosmo definitely skews higher than some of the other strip casinos. I managed to play at a $25 3/2 black jack table, but there was usually only one such table available every day (plenty at 6/5 but that's just dumb). Craps was also a $15 minimum but I've definitely played $10 on past trips while there. If these limits sound too low for you, head up to the Talon Club, one of Cosmo's high limit rooms. It was empty when I walked through their mid day but the private baccarat rooms looked incredibly nice.
Pools
I can't give a review of the Cosmopolitan Las Vegas without mentioning the pools. The hotel has two main pools but the Boulevard pool is the clear winner. Overlooking the strip, it usually fills up pretty early. If Marquee is Cosmo's day club, this scene is probably a couple of notches lower on the party scale, usually pretty mellow early on and ramping up as the afternoon drags on. Not really my scene but a great pool and solid cocktail menu.

Review: The Cosmopolitan of Las Vegas
There have been a lot of rumors swirling around about a potential sale of the property. If there is a sale, hopefully the buyer doesn't mess up a good thing. The Cosmo offers everything I'm looking for when going to Vegas – central location, high end and solid casual food options, decent gaming and a great pool experience. Add in their unique rooms (be on the look out for a room review of the cosmopolitan coming shortly) and It's hard for me to want to stay anywhere else when in Vegas.